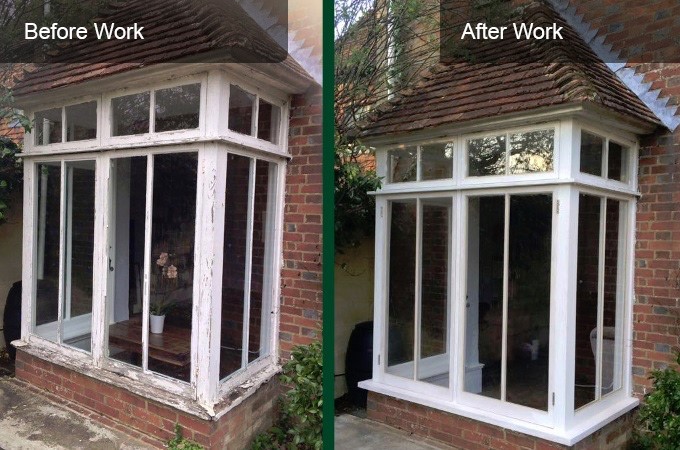 Did you know that the UK has lost three quarter of original box sash windows, either because buildings no longer exist or because of modern window replacements? Sash Window Experts Guildford is a small team of highly skilled craftsmen that share a passion for preserving as many period sash windows as possible.
If you would like to discuss your sash window restoration with our expert joiners, or arrange for a free window quotation or survey, please call Sash Window Experts Guildford on 01483 299 587 or simply email us your enquiry.
Is it better to Restore Sash Windows or Replace them?
At Sash Window Experts Guildford, we strongly believe that just about any original sash window can be brought back to life. Whether the old windows in your home are draughty and rattly, hard to open or close, damaged or rotten, resist the temptation to have them replaced.
Instead, why not give us a call on 01483 299 587 to find out about professional sash window restoration, get a free window survey and quotation? With 20+ years' experience in the business, you'd be hard pressed to find anyone more passionate about giving your traditional timber sashes a new lease of life.
How can my original sash windows be restored?
At Sash Window Experts Guildford, we can offer a real alternative to sash window replacements. Our restoration process is designed to repair, renovate and preserve virtually any original sash window. With regular maintenance and repair, your beautiful timber sashes will not only outlive their uPVC counterparts by many years, they will help to maintain an important period feature of your house.
Our experienced and skilled craftsmen can:
• Complete wood repairs, piecing in new sections that match the original timber profile
• Replace window sills, install new pulleys and outer linings
• Fit centre catches and locks to satisfy insurance company requirements
• Supply and install sash window double glazing
• Carry out complete sash window renovations, including cord and bead renewal and draught proofing
When is it necessary to replace my original sash windows?
In our experience, it hardly ever becomes necessary to replace original timber sashes. However, if it is certain that your windows truly are beyond reasonable repair, our joinery workshop can offer handmade bespoke sash window replacements. Our new double glazed sashes use Warm Edge Technology, while replicating the original detailing of your old windows.
This service is also perfect for buildings with uPVC windows, where the homeowner wishes to reinstate period features.
What are the disadvantages of uPVC window replacements in period properties?
When you're tired of living with period windows that are past their prime, that don't open properly or rattle in the wind, replacing them with modern uPVC windows may look like the answer to your prayers. The proposition of low maintenance, excellent thermal efficiency and affordable cost may seem irresistible at first glance – but there are serious drawbacks.
• Even the most advanced uPVC window will have a shorter lifespan than a wooden sash window that has been properly looked after. You simply cannot restore uPVC back to mint condition, unlike traditional sashes that can be expertly refurbished and revived time and again.
• Even if you opt for a realistic uPVC traditional window design, it will never be able to match the feel and character of the original. Many owners of period properties would agree that installing plastic windows ruins the character of the building, which is why this practice is expressly prohibited in many Conservation Areas.
• The visible jarring created by fitting uPVC windows into an old property can have a negative effect on the value of the building, simply because the desirable original features have not been retained.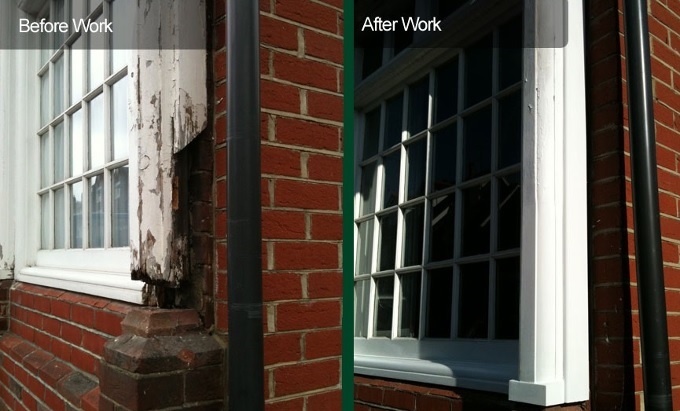 We carry out sash window repairs and replacements in Guildford, Surrey and further afield in Sussex and Kent too. Our workshop prides itself on delivering first class craftsmanship at very competitive prices. But it's more than that – each window restoration is a labour of love. It may only be a small contribution towards preserving our great British heritage in the overall scheme of things, but we think it's worth it.