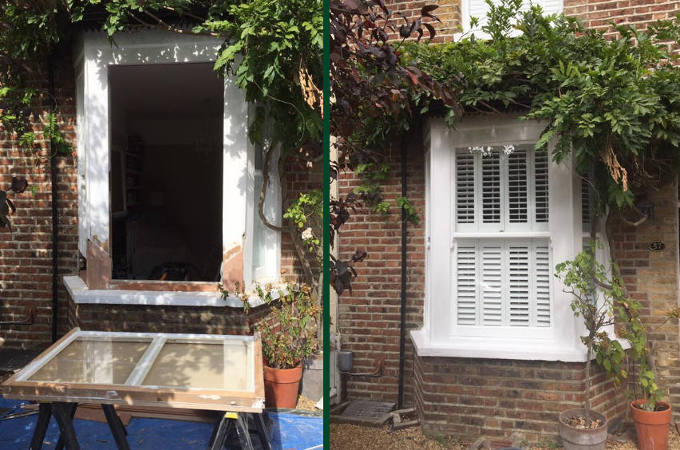 Do you love your original sash windows but wish they weren't so draughty or rattly? While period sash windows unfortunately tend to be more prone to draughts than standard windows, don't despair – call Sash Window Experts.
Our professional team has been repairing, restoring and renovating sash windows in and around Guildford and the South East for over 20 years. We offer a wide range of services designed to ensure that your sash windows are in perfect working order – draught free and easy to open as the day they were first installed.
Benefits of draught proofing
Sash windows have a 3mm air gap around the sashes to allow the sashes to slide past each other smoothly when you open or close the window. It is this air gap that can cause draughts, rattles, dust ingress and heat loss. Draught proofing can solve these problems easily.
The process involves fitting an unobtrusive draught proofing system that won't detract from the look of your window but has several benefits:
• Considerable reduction in draughts
• No more rattling sounds
• Easy glide windows
• Reduction from outside noise
Instead of eliminating the airspace – which would impede the window operation – we can fill the gap with a soft brush, creating a barrier to air and dust coming in and heat going out. Instantly, your home will become cosier, safer and cheaper to run.
Draught proofing can be carried out by our craftsmen whilst refurbishing your windows or as a standalone service. It's the most cost effective way of improving the efficiency of your sash windows and can save you in the region of £50 per year.
For a recent example of our draught proofing work, take a look at this terraced period property in Reigate.
What's the process?
We recommend that we draught proof your sash windows as part of a full window service, which will include sash cords, new parting beads, staff beads, and lubricating the pulley wheels. We can also see to minor timber defects.
If your windows are painted shut, why not let us free up the sashes, replace cords and make the windows open and close properly, just like they were meant to?
We use quality draught proofing pile that will give your windows many years' of service. Draught proofing pile is low drag and reduces friction. That way, the sash can travel smoothly to open and close the window, without any scuffing or smudging of paintwork.
How to maintain your draught proofed sash windows
Once your sash windows are working perfectly again, you should look after them well. Clean the draught seals regularly with warm soapy water. This will stop the seals from becoming brittle and prolong their lifespan considerably.
Please note that the draught proofing seals must never be painted over. Typically the innocent result of an inexperienced or overzealous decorator, it will unfortunately mean replacing the pile carrier.
If you would like to discuss your sash window problems with our expert joiners, or arrange for a free window survey and quotation for draught proofing your sash windows, please email your enquiry or call Sash Window Experts Guildford on 01483 299 587.