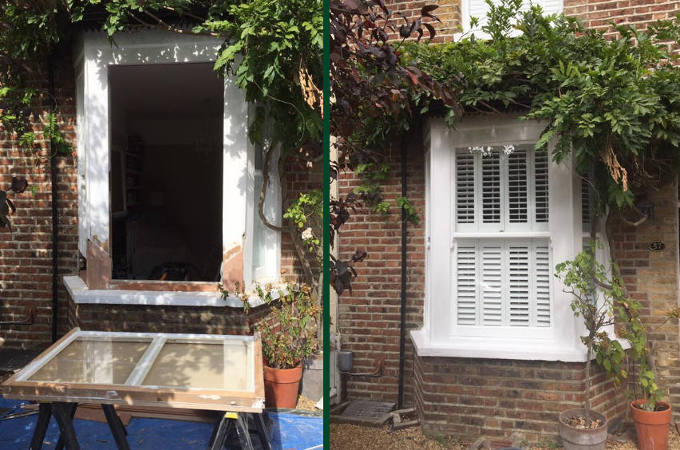 A beautiful period home complete with original features is what many home owners dream of, but traditional timber sash windows can develop problems. Many Victorian and Edwardian homes suffer from draughty or rattly windows, often with water ingress and timber rot to boot. At Sash Window Experts, we get asked on a regular basis whether these issues are fixable.
Our advice is always an emphatic YES. Before you take the drastic step of having modern replacement windows fitted, and even if you're thinking of replacement sash windows, we would urge you to consider refurbishment first.
Shouldn't you do all you can to preserve the elegance and craftsmanship that characterises your heritage home, while maintaining its future value and your enjoyment of the property? Sash Window Experts are passionate believers in architectural conservation and have made it our mission to preserve our national heritage one sash window at a time.
Assessing the problem
First things first – what exactly seems to be the trouble? Old sashes can suffer from rotten timber, cracked putty, failed joints, damaged or snapped sash cords or unbalanced weights. The effect of age and decay can result in windows that stick, rattle and let in draughts.
Luckily, there's no need to take radical action; many draught proofing techniques can be carried out perfectly well on existing window frames. With relatively little expense, you can benefit from lower heating bills, less noise from outside, no rattling or cold draughts. We've put together some DIY measures you can take to tackle draught proofing below.
However, for best results we would always advise that you seek help from an experienced professional, especially if your sash windows are very old or the building is listed. The last thing you want to do is cause any damage, even if it's only cosmetic.
How to draught proof your own sash window:
The easiest (though perhaps not the most desirable) way to draught proof a sash window is to seal it so that it is permanently closed. Fill the gaps with flexible filler and, where necessary, reseal the glass with fresh putty, then paint the entire area. The obvious downside of this solution is that you won't be able to open the window at all.
A more practical DIY option is to use flexible draught excluder strips that you can buy from any good hardware store. Roll out and push into the gaps, or use adhesive sealer strips on the top and bottom of the frame to stop draughts coming in. Unfortunately, flexible strips will wear down and come loose after a while, so will need periodic replacement, especially if the window is in frequent use.
You should also be aware that it is possible to over-seal windows, which can lead to damp and mould on walls and window sills. Not only can this lead to much bigger problems over time, but building regulations stipulate a certain degree of ventilation in every room, and particularly in rooms where gas appliances are used.
Professional sash window repair
If you prefer to find a long-term solution to your draughty windows, it's worth investing a little more and installing professional draught proofing. While this can be carried out as a standalone service, Sash Window Experts recommend draught proofing your sash windows as part of a general window service. This will include new sash cords, parting beads, staff beads and lubrication of the pulley wheels and rebalancing of the weights. Minor timber defects can be dealt with at the same time.
We use quality brush pile draught excluders that slot into the sashes to create a longer lasting and much more breathable solution than the DIY option mentioned above. Draught proofing pile is low drag and reduces friction, so that the sash can glide smoothly to open and close the window without causing any scuffing or smudging of the paintwork.
When we have finished, you'll find that your timber sash windows are now properly functioning, secure and draught free, while maintaining the character of your period home. In terms of energy efficiency improvements, you can expect to save in the region of £50 per year.
Looking after your windows
Once your timber sashes have been draught proofed and restored, it's important that you continue to maintain them. Thankfully, this is not an onerous task. Just make sure you wash the draught seals on a regular basis with warm, soapy water so they stay nice and soft and don't go brittle over time. This alone will prolong the lifespan of your draught proofing measures considerably!
If you have any questions about the period sash windows in your home or need professional draught proofing advice, please feel free to contact Mark on 01293 762370 direct, or message us a short enquiry here.